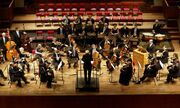 Welcome to the Orchestration and Arranging Wiki
Edit
The following is the structure of categories, subcategories and pages which this musicians dictionary will use. Feel free to edit. Each page will link together (ie all tyes of bass will link, harmony will link at various points to the relevant styles). The emphasis should be on practical usage rather than theoretical context.
Percussion
Edit
Acoustic (nylon and steel string etc)
Electric (including effects)
Bass
Male Voice
Female Voice
Childrens Voice
Ensemble Voice
Paleomusicological (Historical) Instruments
Edit
Viol
Sackbutt
Crumhorn
Recorder
Classical
Edit
Early Music
Baroque Music
Classical Music
Romantic Music
20th Century Classical
Ensembles
Edit
Orchestra
Big Band
Rock Group
Chamber Orchestra
Folk Groups
Choral Groups
Paleomusicological (historical) groups
Quartets, Trios etc
Tools & Skills
Edit
Sibelius
Finale
Logic
Cubase
ProTools
MIDI
Recording Equipment
Input Devices
Audio Setup
Cadential Harmony
Jazz Harmony
Describe your topic
Edit
This is a dictionary and encyclopedia of the 'rudiments' of practical musicology: instrumentation, orchestration and arranging.
Latest activity
Edit
Community content is available under
CC-BY-SA
unless otherwise noted.